Achieving Independence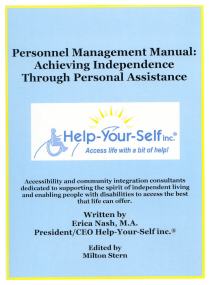 PERSONNEL MANAGEMENT MANUAL: ACHIEVING INDEPENDENCE THROUGH PERSONAL ASSISTANCE©
You can obtain copies by clicking here: Order Manual
For a sample of the Manual, Press Release, and ordering information, see below.
We recently released our new publication. It is written by our Founder, Erica Nash. Erica Nash holds a Master's degree in Non-Profit Management and has worked many years developing policy and programs for healthcare delivery. She suffered a (C4) complete spinal cord injury in a vehicle collision in 1982 when she was 23 years old. She has lived on her own ever since. The information in this manual comes from her over 20 years experience of managing personnel; it brings to the forefront knowledge gained from her trials and errors, struggles and accomplishments, and includes the perspective of other consumers, Personal Assistants (PA) and prominent independent living advocates.
Although our Manual highlights the specific needs of people with disabilities and caregivers, we believe it is a tool that can help improve anyone's interpersonal private as well as professional relationships and that most will find it enlightening and useful.
This manual supplies business management concepts as they apply to the PA-employer relationship and teaches people how to incorporate these concepts into their daily lives.
The goals of this Manual are to help people with disabilities learn to live independently and teach Personal Assistants how to assist them so they can achieve that independence. The Manual teaches when, why, and how to manage Personal Assistants, as well as self-direct one's own care.
"Independent living does not mean you have to do everything by yourself: whereas you may choose to think that having to use a PA robs you of your independence, in reality having a PA may be your means of living your life the way you want," says Nash. "Generally, most of us have had little or no experience as an employer or supervisor. When you hire an attendant, you become a boss, and you enter the complex world of business management."
This Manual is a practical tool for:
Individuals with Disabilities
Family Members
Caregivers
Hospitals
Rehabilitation Centers
Group Homes
Nursing Homes
Independent Living Centers (ILCs)
Teaching Institutions
Government Agencies
Community Centers
Top researchers in the field of disability awareness have praised this manual as a training tool for increasing independent living skills for individuals with disabilities.
Instructors will find the Manual useful as a training aid. There are comprehensive chapters on needs assessment, best practices, advertising, recruiting, training, releasing, and communicating with PAs, as well as an appendix of materials that are designed to be reproduced and used by their students.
Individuals with disabilities will find details and tools that will allow them to comfortably begin and successfully continue to self-direct their own care.
Personal Assistants will find details about the psychology of individuals with disabilities, communication skills and conflict management techniques. The information provided will increase their ability to help their clients.
"I believe your recent Personal Assistance (PA) Management Manual is an excellent piece of work. It is comprehensive, down-to-earth, practical, and sensitive to the needs of both consumers and personal assistants. I believe it will have a long shelf life. Something this good has been needed for a long time. After 30 years in the field, I do not say these things lightly. Your Personnel Management Manual is a breakthrough for both users and providers of PA services. It provides, in one document, most everything that an informed consumer needs to know about being an effective user of personal assistance services. It is practical, user friendly, and easy to navigate. This work will become a classic reference for those who use personal assistance services."
--- Gerben DeJong, PhD, Senior Fellow,
National Rehabilitation Hospital , Department of Research, Washington , DC.
The Manual is intended to be used as a living document and, as such, it will be revised annually. We welcome your suggestions and comments.
All proceeds from this Manual are a donation to the non-profit corporation Help-Your-Self, Inc.® Proceeds are used to provide independent living and community integration services and free copies of the Manual to individuals with disabilities who otherwise could not afford them.
More Information
The files below are in PDF format. You will need Acrobat Reader to view these files. If you need a free download of Acrobat Reader click here